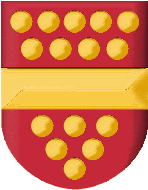 van Rij
Also known as

van Ry, Vanry, van Rhie, van Rhije, van Rie, van Riede, van Rije, van Rijn, van Rijt, van Rijede, van Rey, van Reij, Verij, Verrij, Vrij and
Hoornweg van Rij
Guestbook
Hello, does anyone know if there is a link between the van Bentheim (House of Holland), and the van Rij coats of arms?

16-4-2016, 05:26
---
Hello from Brazil,
my name is Jean-Pierre Paats; ancestors: Paats van Dijck, descendants of van Rijn, descendants ofvan Duyck vrijs/vriese (D0rdrecht, Zwindrecht) said to be descendants van Merwede, said to be descendants van Brederode Teylingen, son of Siegfried whose alledged father would have been Count Arnulf van Holland (Arnulf van Ghent).
Has anyone some infos about the Arnulf to van Rijn/Rij period?
This site is great, many thanks.

16-4-2016, 05:07
---
Hello
My name is Michael Huey of Michigan USA. My wife is a Van Ry of Holland Michigan. We have been researching the family tree of the VanRy''s and kind of came to a halt when trying to find the father of Bastian Van Ry b. 1809-? and Anthony 1816-1871 married to Jacobus Westveer 1819-?.
I would be interested in sharing some info, due to not many Van Ry''s in the US, or I should say van-Rij''s.
Thank you in advance
Mike Huey and Susan (Van Ry) Huey
27-4-2013, 02:04
---
Hi all

Just a quick message from South Africa.

thank you for an excellent website
21-3-2009, 08:18
---
hi i would like to say hello to the van Rij familes and wish everone good health and happiness. Johannes Rij
2-5-2008, 00:29
---
The guest book is open for all visitors
28-10-2007, 16:24
---
You can't read the guest book?
e-mail the WebMaster